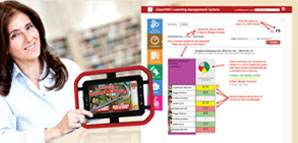 VINCI Blended Learning is simply fun! If you are a public school administrator, you can blend VINCI Digital Curriculum to your everyday teaching. If you operate a private school, you can license complete VINCI Blended Curriculum which includes skill-based learning structure, learning management and assessment, classroom setup guide, and training for blended pedagogy.
Public School Boards
Inquire about our school solution – ClassVINCI, in the form of classroom kits, including tablets, curriculum content, learning and assessment management, and training.
Private Schools
VINCI Connected Learning System, designed to support the entire instruction and student assessment, works perfectly for daycare, preschools and elementary schools. VINCI system is the only game-based curriculum and data tools designed for young children.
Implementation & Training
Whether it's for public or private education,  our implementation team will provide a set of training sessions with hands-on practicum activities. At VINCI, we believe families should be deeply involved in each child's education. And so, VINCI Blended Learning program invites parents to come learn how to benefit from the latest technology tools to stay connected with teachers, to not only understand how to best use technology for their children's learning at home, but also learn how to use VINCI Learning Management parent portal to monitor and track their children's progress.